The development of Hazardous Communication regulations (Right to Know) began in 1974. The original rule was published in November 1983. That rule was modified in August 1987 to expand coverage to all industries where employees are exposed to hazardous chemicals. In summary the Hazard Communication Standard required the following.
Chemical manufacturers and importers are required to evaluate the hazards of the chemicals they produce or import and prepare labels and safety data sheets to convey the hazardous information top customers.
All employees with hazardous chemicals in their workplace must have labels and safety data sheets for their potentially exposed workers and train them to handle the chemical appropriately.
Recently, there have been major changes to the Hazard Communication Standard. These revisions include:
Now provides specific criteria for classification of health and physical hazards, as well as classification of mixtures.
Chemical manufacturers and importers are now required to provide a label that includes a globally harmonized signal work, pictogram and hazard statement for each hazard class and category.
Safety Data Sheets have a specified 16 section format.
Workers are required to be trained on the new labels and data sheet format.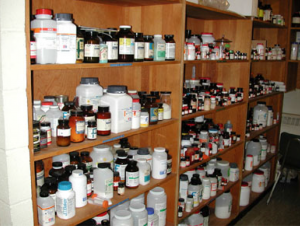 The Globally Harmonized System (GHS) is the driving element of these changes. The GHS is an International approach to hazard communication, including labeling and safety data sheets. Prior to this a variety of approaches were utilized. Hazard communication was generally approached by labeling. The NFPA developed a widely used labeling system. However, manufacturers could utilize other labeling systems as well as one they developed internally. As a result labeling and hazard communication was not consistent between manufacturers. The same could be said of Material Safety Data Sheets (MSDS). Individual MSDS's would range from very informative to practically useless. The new SDS format forces manufacturers to provide specific information which is useful to communicating hazards to workers. For labeling the revised Hazard Communication Standard utilizes GHS pictograms to convey information regarding the health and physical hazards of a material. Signal words used are danger and warning. Danger is used for the more severe hazards. A hazard statement is assigned to a hazard class and category that describes the nature of the hazard of a chemical. The precautionary statement utilized a phase that describes measurers to be taken to minimize or prevent adverse effects resulting from exposure to a hazardous chemical. Training is provided to UA personnel and students in a variety of ways. Most people will be assigned Hazardous Communication training through the Skillport Academy. In other cases classroom instruction or individual training will be provided. For more information contact EHS.
For more information about Hazard Communication/Right to Know visit the following links.