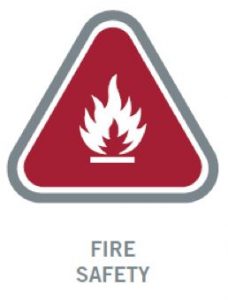 Mission
The intent of the Fire Safety Unit is to establish uniform procedures for students, employees and guests in case of a fire or other emergency at The University of Alabama. Fire Safety supports the mission of EHS by providing critical guidance and oversight of fire safety policies that govern people and operations on campus, as well as maintaining and inspecting fire safety systems and equipment for the University and ensuring compliance with the National Fire Protection Association (NFPA), the International Code Council (ICC), the American with Disabilities Act (ADA), and local ordinances. Fire Safety provides services to all UA buildings, this includes fire alarm systems, agent suppression systems, fire extinguishers, lightning protection systems, as well as emergency egress lighting. Detailed guidelines about UA Fire Safety can be found on the Manuals and Policies page.
Equipment & Operations
Fire safety equipment is present in every building on campus. The specific equipment and systems vary in each space based upon the potential for specific hazards within the building. For detailed information relating to fire safety equipment, contact EHS at (205) 348-5905. Types of fire safety equipment and operations are divided into the areas listed below:
Reporting
The Office of Environmental Health and Safety – Fire Safety Unit conforms to the reporting requirements of the Clery Act.  The Jeanne Clery Disclosure of Campus Security Policy and Campus Crime Statistics Act or Clery Act is a federal statute codified at 20 U.S.C. § 1092(f), with implementing regulations in the U.S. Code of Federal Regulations at 34 C.F.R. 668.46.
The Clery Act requires all colleges and universities that participate in federal financial aid programs to keep and disclose information about crime on and near their respective campuses. Compliance is monitored by the United States Department of Education, which can impose civil penalties, up to $35,000 per violation, against institutions for each infraction and can suspend institutions from participating in federal student financial aid programs.
In compliance with this, we provide the following information which outlines the fires that have occurred in on-campus student housing facilities and the current fire safety systems in these on-campus student housing facilities:
Fire Log:
Fires in Student Housing (2009-present)
Fire Statistics:
Fire Statistics in On-Campus Housing Facilities (2016 to 2022)
Fire Safety System Descriptions:
Fire Safety Systems in Student Housing Facilities
EHS Administrative Fire Alarm Report
Fire Safety Policies
For additional information regarding fire safety on campus see the Fire Safety Policies, Procedures and Guidelines.
Training
Training is required for personnel depending on the hazards involved in spaces or by departments. Information about training and the training course request can be found at Training Information.
Additional Links
Smoke Detection Bypass Request
Additional information regarding the fire safety program and relating policies can be found in The University of Alabama Annual Campus Security and Fire Report.