The purpose of this respirator program is to establish standard operating procedures to ensure the protection of all employees from respiratory hazards through proper selection and use of respirators. This program applies to all employees who are required to wear respirators during normal operations, non-routine tasks, or emergency operations such as a spill of a hazardous substance.  Specific information about the Respiratory Protection Program can be found in the Respiratory Protection Manual.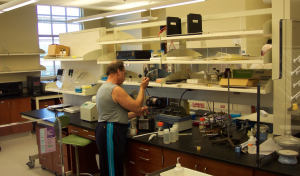 Information for UAPD Officers regarding Respiratory Protection Programs
To determine if you are subject to the Respiratory Protection Program, we have provided this Respiratory Protection Assessment FlowChart.
Everyone who is part of the Respiratory Protection Program is required to complete and submit a medical evaluation form.  Contact EHS for information.
Training for respirators is provided by EHS and must occur in connection with an appointment for fit-testing and respirator assessment.  This training review can occur prior to the fit-testing and is available below.  Please choose the training appropriate for your respirator:
Respiratory Protection Training for User of N95 Masks
Respiratory Training for Users of Dual Cartridge Respirators
Message from Director of EHS:
Due to concerns regarding overall University liabilities  and regulatory compliance issues, EHS is revising the current respiratory  protection policy.
Students and employees who request a respirator will be evaluated by EHS.  This evaluation will include a review of the work area or process which the requestor believes requires respirator usage.   Engineering controls are the preferred method of exposure control and thus their use  will be evaluated first.  The use of available engineering controls must be utilized to  control exposure.  If engineering controls or usage procedures will control  personal exposures, respirators will not be supplied.  If the evaluation indicates a need for respirators, all affected personnel and students will be  included in the EHS Respiratory Safety Program.   A flowchart outlining the  steps involved in this process is attached.
Respirator costs shall be incurred by the  responsible department.
Effective date 8/15/2012