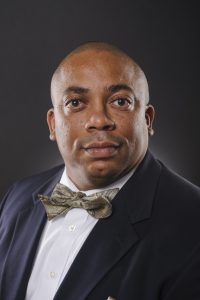 Darren Moss
Biological Safety Manager
O: 205-348-5941
C: 205-361-0252
Darren started at the University in 2013. Before taking on his current job, Darren spent time training Birmingham City School science teachers, working as a PI for the D.O.E/U.N.C.F. Building Environmental Stewardship Program and teaching College level Biology and Human Anatomy for 14 years. He received his B.S. and M.S. in Biology from Miles College and Alabama A&M University and has additional Graduate Certification in Environmental Health & Safety Management from UA. Darren is a member of the American Biological Safety Association, the American Society for Microbiologists and CSHEMA.
Job Responsibilities
Aid in the administration of campus biological safety
Provide services to faculty and staff that include:
Review of proposed biological research projects while providing recommendations on biosafety levels to the IBC based upon the Biosafety in Microbiological and Biomedical Laboratories (BMBL) Manual and NIH r/s DNA Guidelines.
Provide technical advice to Principal Investigators and the regulatory committees regarding research safety procedures including the development of exposure control plans for the safe handling, storage, and use of biohazardous materials.
Advise on the selection, installation, maintenance, and use of laboratory equipment which provides or aids in containment of biohazardous materials.
In consultation with faculty, staff, and the IBC aid in the development and implementation of policies, procedures, and practices to reduce the risks of work with biohazardous materials.
Investigate laboratory accidents, exposures, or releases involving biohazardous materials in research.
Perform periodic inspections to ensure that laboratory standards are rigorously followed.
Review government agency permit applications that involve biohazardous materials.
Provide guidance in the development, operations, and management of biosafety Level 2 laboratories. Verify the safety of these laboratories before they become operational and provide oversight annually.
Recommend appropriate modifications of the Animal Care and Use Protocol to reduce biohazard risk.
Provide continual monitoring of accuracy of campus policies on the Biosafety website.
Providing training services for safe handling practices involving biohazardous materials.
Perform inspection as a team member for IACUC facility reviews
Plan, development, and conduct training on biosafety issues, practices, and procedures.
Review and approve laboratory-specific training plans for high-hazard biohazardous materials research laboratories.
Report any significant problems, adverse events, violations of the NIH Guidelines and/or UA Biosafety policy violations, or any significant research-related accidents or illness to the IBC
Implement the decisions of the IBC.
Review BUA applications and inspect labs before submission to the IBC.
Review biosafety facility construction/remodeling plans and specifications. Inspect construction/remodeling and authorize initiation of biohazardous materials work following completion of construction.
Provide advice on biosafety facility design, ventilation needs, laboratory security and other supporting services.
Manage of the select agent program when needed and serve as the Alternate Responsible Official as defined in 42 CFR Section 73.
Ship Infectious Substances (IATA DOT) along with MTA advisement and domestic and international import and export of biological substances.
Certifications:
Registered Biological Safety Professional (ABSA)
Environmental Health & Safety Management
Protecting Human Research Participants: NIH
Principles & Practices: Biosafety: ABSA
Biosecurity: Eagleson Institute
Incident Command Higher Education: U.S. Homeland Security
Essentials for IACUC: CITI
IACUC 101/301: CDC Eagleson Institute
Biosafety and Operations Management: CDC
BSL3 Facilities: Design, Construction and Beyond- Eagleson Institute –Certificate Shipping of Infectious Substances (IATA DOT)-Certificate
Training:
Protecting Human Research Participants
Principles & Practices: Biosafety
Biosecurity
Incident Command Higher Education
Essentials for IACUC
IACUC 101/301
Biosafety and Operations Management
Advanced Biosafety Training
Radiation Safety